Company
Profile
OUR HISTORY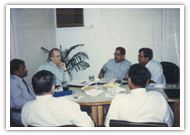 Floated in 1995 by a group of senior retired army officers, ISSL is by now, one of the leading security companies in the country. We have a professional management team with standing track record of working in security and related fields in senior positions while in government service. This has attributed to the sharp growth and expansion of ISSL within the short span of time. Since our inception we have been providing manpower-based security that is supplying guards to Hotels, Hospitals, KPIs etc.

We have now over 7500 security personnel deployed all over the country having establishments in some of the major cities/towns in Bangladesh namely Chittagong, Sylhet, Khulna, Bogra, Comilla, Rajshahi and Barishal. We are very proud to disclose that we are rendering services to 11banks (250 branches and ATMs), which include world-renowned banking group like Hongkong and Shanghai Banking Corporation. As of today over 400 multinational companies have availed our services. These include companies like Unilever (BD) Limited, British American Tobacco Bangladesh (BATB), Robi Axiata Limited, Grameenphone Limited, IDB-BISEW, Tullow Bangladesh Ltd. We take pride in providing security service to the UN organizations like WFP, WHO and UNOPS.
MODERNIZATION POLICY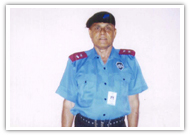 In keeping with our policy of expansion and modernisation, we have also introduced cash carrying operations for our clients specially the banks and multinational companies in our fabricated vehicles with armed guard and centrally controlled mobile communication network. We also specialize in escorting convoys of trucks with goods between various destinations within Bangladesh. We also provide electronic security - consultancy, planning, provisioning and maintenance of electronic equipment. We specialize in Event Management Security and safety with more than 23 years of experience. We also take up assignment for background verification (confidentially) of client's for Banks, Leasing Companies etc. and Office staffs for other Multinational and Local Private Organizations.
SUPERVISION & MONITORING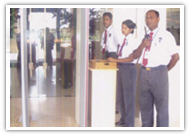 We have three layers of supervision system controlled by a central monitoring system with a network of wireless sets, mobile phones and land phones. We have the control room operating 24 hours with stand by reserve force on wheels to cater to any unforeseen situation. Besides we have day-night mobile supervision and client service system through specially trained security officers, area inspectors and post supervisors. At management level we maintain regular liaison with the employer to get direct feedback and improve the quality of our service.We see security in its totally. That is why we also provide auxiliary services like provision of peons, tea boys and cleaners to our clients. The aim is to integrate and ensure compact security network to the organization. This integration helps in monitoring & screening of personnel involved in both security & administrative duties.
TRAINING MODULE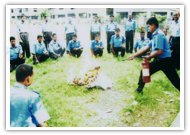 We have own training schools at Dhaka,Chittagong and Sylhet where in we run regular courses for fresh in-takes, revision course for mid level supervisors, inspectors and security officers. These courses vary in duration depending on the type and level of students and are regulated by prefixed syllabus and lesson plans. The training involves both theoretical and practical lessons.
OUR VISION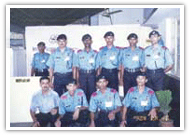 On analysis of the security services currently available, we feel that much remains to be done in terms of quality. Enhancement of quality of service is thus our objective. With a proven track record of growth, Integrated Security Services Ltd has already introduced high technological security devices. We aim at giving an integrated security solution to the clients, who should be relieved from botheration of handling security issues. Finding the right security solution for loss prevention and damage control for clients is one of the primary objectives of Integrated Security Services Ltd.